Bure Valley
Sunday, August 10th, 2014
It has been a long-held ambition of mine to combine a trip on the Bure Valley Railway, a narrow-gauge railway running steam-hauled passenger services for nine miles between Aylsham and Wroxham, with a walk on its accompanying footpath. Our recent trip to Norfolk has finally presented us with the chance to accomplish this.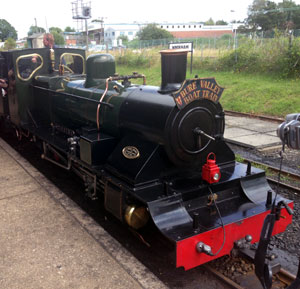 This trip has got all the makings of a great day out – encompassing a trip into Broadland, a reasonable number of geocaches, a bit of steam and, of course, a very nice trail to follow. The walk could not be gentler nor more straightforward – running on first one side than the other of the railway tracks (the switch comes around the half-way point) and with the kinds of gradients that small steam locomotives are happy with. So, how did we do?
We started our day at Aylsham station, getting the second train of the day. This was pretty busy and, given the warmth of the day and small dimensions of the carriages, the outward journey was a little less comfortable and enjoyable than perhaps we had hoped. It was also quite hard to get a sense of this being a steam-hauled service, although the wonderful, unmistakable smell of the coal-fired engine (and the odd blast of the steam whistle) did keep coming back to us through the open window.
In some ways the best bit, from a steam point of view, is the arrival in Wroxham station when it's possible to look at the engine up close, watch it being turned (powered by two people pushing!) and then being taken up the line to be attached to the other end of the coaches. There's also a historic signal box to admire from the days when this was a full-size branch line. The journey took around 45 minutes and was a pleasant trip through the Norfolk countryside. Wroxham provided us with some boats to look at, including a lovely feat of single-handed mooring by a man in a seagoing yacht. There are a few interesting geocaches around and the station has a gem of a second-hand bookshop, for which bibliophiles should definitely factor in extra time.
And so to the walk. Its top attraction is the great variety of scenery on this relatively gentle path. You see woods, water, farmland and a good deal of minature railway infrastructure including passing loops, cuttings and embankments, a tunnel which goes under the Cromer Road, bridges and points. The intermediate stations are tiny and trains stop by request. There's no navigation whatsoever required since all you have to do is follow the railway line. It's pretty well-used and you'll find yourself sharing the path with cyclists, dog walkers and railway buffs. There are caches along the path, although not particularly easy ones, and we found to our cost that they can eat up a horrible amount of time. And, of course, there is the pleasure of watching the trains running up and down the line as you walk. There are a couple of interesting diversions to be had off the path with Oxnead Church perhaps chief among them.
I'm glad to cross this off my 'to-do' list – a very nice day out, not a train ride or a walk I necessarily feel the urge to repeat as things stand, but that may change in the future, of course. Certainly most of the people on a certain popular travel review website seem to have enjoyed their visit to this attraction. If taking bearings off mountains and traversing bogs by compass alone is your thing, this is never going to hit the spot. But as railway walks go, it is a fine one, and definitely worth spending a day on.
Here is a nice video that really captures the experience of using the railway:
And, if you fancy a really in-depth look at the history of the railway, try this: